Services >> Web Design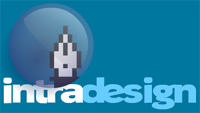 Intrawork's web design approach and ultimate execution is directly tied to the specific short-term, day-to-day needs as well as the long-term "big picture" objectives of our clients. The deliverable can range from a small scale web site that relies on an easy-to-use template-based design to a custom-built web site with an array of features and dynamic applications.

Even more importantly, Intrawork can serve a

s the end-to-end provider in bringing your web initiative to fruition beginning with completing a thorough research, discovery assessment and recommendation process (RDAR) and then moving ahead with creating a web design and building a site based on the RDAR. Intrawork will create the site's architecture, navigation and overall "look and feel," and is versed in the latest web design technologies.

Additionally, Intrawork can address the many other needs related to launching a web site: registering a domain name, setting up the site's hosting, en

suring comprehensive search engine submission, developing a system to capture and manage leads generated from your web site, creating targeted outbound direct marketing campaigns and providing ongoing web site maintenance and support.
The importance of ongoing web site administration and maintenance cannot be underscored enough. Out-dated content and broken links, for example, can reflect poorly on your web presence, but not all organizations have the internal expertise to manage a site once it's up and running. Or oftentimes, the in-house information technology (IT) staff is already tapped out.
Intrawork offers 24/7 web site administration and maintenance and content management on all computer operating system with turn-around time and accuracy top of mind. Because these services will vary widely by organization and project scope, please click here to obtain a customized quote.
Please note that while Intrawork prides itself on its ability to provide an end-to-end solution to its clients, we also work on a project basis to meet a specific need and will pleased to provide a proposal and quote for any of the services outlined above from web design to search engine submission to site maintenance and everything in between.