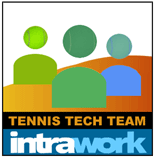 Services >> Intrawork's Tennis Tech Team

"Your Online Team for Tennis"

A

nd who better to deliver than Intrawork's Tennis Technology Team

With Intrawork being hailed as the Premier Business Partner for Tennis Connect and backed by the TIA, expectations run high. When it comes to delivering the goods as promised our team promises that we will deliver, and deliver with strong services and highly professional deliverables.

The Leader
The team is led by Intrawork's founder and CEO Scott Bruno who has been delivering online solutions, brand ID and marketing services and planning since 1995. Mr. Bruno brings an additional 15 years of Tennis Industry experience to the tables from places such as working as a USTA Clinician, Director of the Central California Arthur Ashe NJTL program, being a #1 college player during his education and having taught tennis as a pro for over 10 years. His most recent contribution to tennis was in the design and production of Tennis Mates, an online website that is free to all players and allows players to register and then speedily search through thousands of players to find a match.

The Team
The Intrawork Tennis Technology Team is made up of several technology savvy associates' who place the highest level of emphasis upon delivering the most professional level work that can possibly be offered at this time. Team members are selected by their roles in past technology jobs as well as their interest in the sport of tennis. By most measures many of the team members have either been in a U.S. Military service or are currently in a U.S. Military Service as it is imperative that this team works tightly as a team, grows together in rapid response motions and have demonstrated a high value on professionalism and teamwork. Keep your eyes on this spot as we collect our team's bio and offer it here for your review, to get to personally know the team member that shall be working with you.

The Core Support Team
The Intrawork Tennis Technology Team is supported by having core partners of the team who regularly offer their professional views in support of all subjects. Those core partners include industry leading specialists such as legendary Master Professional Ken DeHart, long time teacher and professional Mitchell Manns, Professional associate and doctorate Randy LaFrom and Security Director Magnus Stjernstrom. The services that we deliver are in large part influenced by this Core Support Team, who are always in touch with the Tennis Technology Team at Intrawork and who are always providing us with the latest and greatest advantage from their professional view. This helps identify the areas by which Intrawork's team in tennis run, what direction we shall be taking in the future, and what makes sense to offer today and tomorrow.